Back in 2011, I published the story Transit Trip in Trouble about possible changes to North County Transit District's #395 between San Clemente and Oceanside.
NCTD is now considering cutting the #395 and replacing it with a flexible-destination service ("FLEX"). Unfortunately, the replacement service would run only as far as Camp San Onofre, leaving Camp San Mateo and San Clemente unserved and breaking the connection with Orange County Transit #1.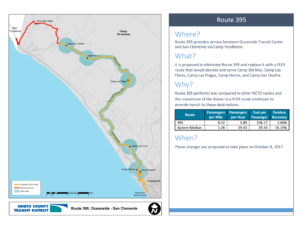 A series of public outreach events will be held in early April: visit http://www.gonctd.com/servicechanges/ for details.
Statements may also be mailed to:
NCTD Service Changes,
810 Mission Avenue,
Oceanside, CA 92054
or emailed to: servicechanges@nctd.org.
The NCTD board will meet on April 20; any approved changes will go into effect in October.