Everyone knows that the best French Dip sandwiches in LA are at either Phillipe's or Cole's, right?
Maybe.
But there existed a third French Dip restaurant of little-known historical significance. It was located in a large building at the southeast corner of Figueroa and Santa Barbara (now Martin Luther King), just south of Downtown.
Probably the first time I even saw the term "French Dip" was when we drove by that building in the early 1970s.   (I still wasn't sure what a French Dip was back then.  Something ladies did with their hair? It could have been a beauty salon for all I knew 🙂 )
Of course, a lot more than roast beef au jus was going on in this building. This was also the location of the National Technical Schools, at one time, one of the largest trade schools in the U.S.
Vrena Bender Rosenkrantz founded the school, which was originally named "National School of Engineering," in 1905. Back then, automobiles were very uncommon and regarded with suspicion. At best, they were considered toys for the eccentric. And they certainly were not considered part of a woman's domain back in those days either. But she saw the future potential of the automobile and decided to open up a school anyway.
Her first class, in a small building just west of Downtown, had only three students. Tuition was twenty-five dollars.
Over the next few years, however, the number of automobiles grew dramatically, and more and more students came to the school to learn how to repair their cars. As Vrena added instructors and programs, more space was needed. The school moved at least three times in Downtown Los Angeles. Finally, Vrena and her husband Joseph, who had taken over management of the school in 1920, purchased land at Figueroa and Santa Barbara Avenues and built a new building to house the ever-expanding school.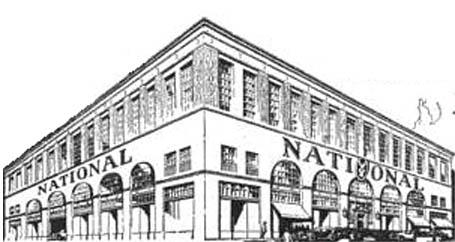 The new building opened in April 1923.  At the time, this three-story edifice was the largest building west of Kansas City. It was designed and built by Meyer and Holler, a firm famous for many other notable buildings in Southern Callifornia, including the Grauman's Chinese and Egyptian Theaters.  The outside of the Italian-styled building featured several arches. Some of the building's street frontage was rented out to shops, including the French Dip restaurant I mentioned earlier.
For the students, there were classrooms, laboratories, workshops, dormitories, a library and a gymnasium. It also had a public garage, where customers could have their cars repaired by students.  Over 200 students could receive instruction at one time.
The school advertised heavily in technical magazines such as Popular Mechanics and Popular Science. Prospective students needed little prodding to, as one ad read, "come to Los Angeles … where wintertime is like a glorious summer day."
The automotive school also offered correspondence courses to students across the country and all over the world.  Some of the correspondence courses were offered in Spanish and the Rosenkranzes opened a campus in Mexico City. There were also plans for a new campus along Exposition Boulevard between La Brea and Crenshaw. However, school officials decided to expand the Figueroa Blvd. campus instead.
As technology advanced, the Automotive School added programs in aviation, radio repair, and radio broadcasting. When Diesel engines became practical in the mid-1930's, the school had to expand rapidly to accommodate the influx of students interested in learning about these engines.
During World War II, the school trained hundreds of soldiers as radio technicians, electricians, and automobile mechanics. In late 1942, the school and its officials were indicted in Federal court for trying to defraud the government; after a three-day trial, the officials were acquitted of the charges because of lack of evidence of any wrongdoing.
After the war ended, enrollment swelled as returning soldiers used their G.I. Bill benefits to pay for education. As the post-war economy regained its consumer focus, there was more demand for automobiles—and people to repair them. Television was another growing post-war industry, and the school added programs in television repair. Classes in home appliance repair, and heating/ventilation/air conditioning, were also implemented to meet the need for repairmen.
In addition to the school, the Rosenkranzes participated in many charitable pursuits, both Jewish and secular. Joseph was a founding director of the Los Angeles Sanitarium in Duarte. (This institution became the City of Hope in 1949.) A few years before his death in 1948, he wrote several motivational books. Vrena was a longtime supporter of the California Home for the Aged in Reseda (now known as the Los Angeles Jewish Home). The Rosenkranzes had two sons: Louis became a director of the Los Angeles campus, while Samuel worked for the school in Mexico City.
In late 1959, the school changed its name to "National Technical Schools (NTS)." Ownership and control of the institution passed to its employees. Over the next three decades, NTS became increasingly dependent, on government funding. Soldiers returning from Korea and Vietnam brought in more G.I bill money; other students used federal and/or state financial aid to pay the tuition. The high-tech 1980s brought new courses in computer programming and repair and even robotics.
An Encino-based company, United Education and Software (UES) bought NTS in late 1985. UES already operated twelve other trade schools in California under the "Pacific Coast College" name. Initially, UES, which had been struggling, got a financial boost from the NTS acquisition. Unfortunately, things did not go well for either NTS or UES for long.
The US Department of Education audited NTS' programs during 1987 and 1988, and found that one of its courses was too short to meet federal standards. The school was also sued by several students and the state Attorney General, accusing it of misrepresenting course content, job placement, and tuition costs, admitting academically unprepared students, and not properly refunding student loan money to students who had dropped out. NTS was temporarily barred from accepting any government financial aid. By December 1989, UES had filed for bankruptcy. NTS and several of the other UES campuses shut down.
The ornate, Italian-styled building remained until it was demolished in 1998. Today, a Chevron station and a McDonalds restaurant now occupy the site of what had been.
And no, they don't serve French Dips.
Sources (roughly in order of appearance):
Los Angeles City Directories, 1915, 1918, 1922, 1923, 1929
"School for Auto Seen in Mexico." Los Angeles Times, May 8, 1927
"Local School Has New Home." Los Angeles Times, Dec 10, 1922
"National Automotive School Celebrates Formal Opening of New Three Story Building." Los Angeles Times, April 6, 1923
http://en.wikipedia.org/wiki/Meyer_&_Holler [accessed May 12, 2010]
"School Now to Occupy More Room." Los Angeles Times, May 5, 1935
"School Quarters Being Improved." Los Angeles Times, May 26, 1935
"New Diesel Class Ready." Los Angeles Times, Aug 25, 1935
"Diesel Engines Stir Interest." Los Angeles Times, Oct 6, 1935
"Engineering School for Southwest Area." Los Angeles Times, May 24, 1936
"Lynn Named Radio Coach." Los Angeles Times, Jan 26, 1936
"Auto Schools Now Occupying New Addition." Los Angeles Times, Jul 19, 1936
"Diesel Training Gains In Demand." Los Angeles Times, Nov 8, 1936
"Army Technical Men Graduate." Los Angeles Times, Sep 25, 1942
"Schools Training Radio Men for Army Indicted." Los Angeles Times, Oct 29, 1942
"Trio Accused of Fraud Attempt Found Innocent." Los Angeles Times, Apr 16, 1943
"White Plague Their Battle." Los Angeles Times, Feb 16, 1914
"Re-elected." Los Angeles Times, Aug 2, 1935
Motivational Books by Joseph Rosenkranz
"Trade Schools Executive Dies." Los Angeles Times, Jan 27, 1948
"Mrs. Vrena Rosenkranz Services Set." Los Angeles Times, May 1, 1963
Advertisements in Popular Mechanics, Popular Science, Popular Electronics ,etc. – just about every issue of these magazines had an ad for this school. In fact, just about any magazine with a predominately male readership would have these ads.
"Two trade-school companies agreed to combine." Los Angeles Times, Sep 20, 1985
"Computer Marketing Plans Fail to Make Grade." Los Angeles Times, Oct 1, 1985
"United Education Reports 142% Rise in 2nd Quarter." Los Angeles Times, Aug 26, 1986
Singh, Umendra. "Correspondence Course in Computers Draws Fire." Seattle Times, Dec 8, 1987
Apodaca, Patrice. "U.S. Halts Loans for Trade School Run by UES." Los Angeles Times, Oct 17, 1989
"Court Lifts UES Exclusion From Loan Program." Los Angeles Times, Oct 24, 1989
"Suit-Troubled Trade School Poorly Run, Critics Charge." Los Angeles Times, Nov 28, 1989.
Apodaca, Patrice. "Trade School Operator Files for Protection." Los Angeles Times, Dec 6, 1989
Apodaca, Patrice. "2 Years of Problems Pushed United Education into Reorganization." Los Angeles Times, Dec 13, 1989